Staff

Gayle Oretha Jeffers
Contact information for Gayle Oretha Jeffers:
Name:
Gayle Oretha Jeffers
Email:
gayle.jeffers@ttu.edu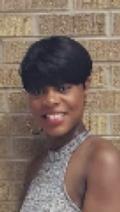 About Gayle Oretha Jeffers:
My pursuit of studying Spanish provides me with a unique insight into the world through a different pair of lens. The diversity of the Spanish language and culture allows me insider access to one of the world's richest cultural paradigms, traditions and a way of being. My journey in Spanish transcends every aspect of my life and positively impacts not only my personal life, but also my professional and academic life. As a graduate student assistant, it's a great feeling to be called upon to translate a document, interact with a Spanish speaking student via telephone or email at my place of employment on campus. Also, the ability to seamlessly travel to another country that speaks Spanish or even visit a local store in town or ordering off of a menu in Spanish, is by far the best benefit of being bilingual. Although I may not be biologically tied to Hispanic roots, my love for the language and its culture has inspired others to take the first step and embrace a new cultural connection. More than anything else, my goal other than being a professor of Spanish, is to ignite a passion for the study of the Spanish language so that others can reap the benefits of experiencing the world differently and in doing so, understand themselves better.