Studies in Zimbabwe
We start at the Cradle of Humankind World Heritage Site in South Africa.
The Cradle of Humankind is widely recognized as the place from which all of humankind originated. The 47 000-hectare (~18 miles) site has unearthed the best evidence of the complex journey which our species has taken to make us what we are – a place of pilgrimage for all humankind.

Three weeks later we end at Victoria Falls – one of the largest waterfalls in the world.

You will experience
Incredible wildlife in their natural habitat

Bush drives

Ancient rock drawings

River cruises

African food & music

Meeting villagers

Traditions of Zimbabwe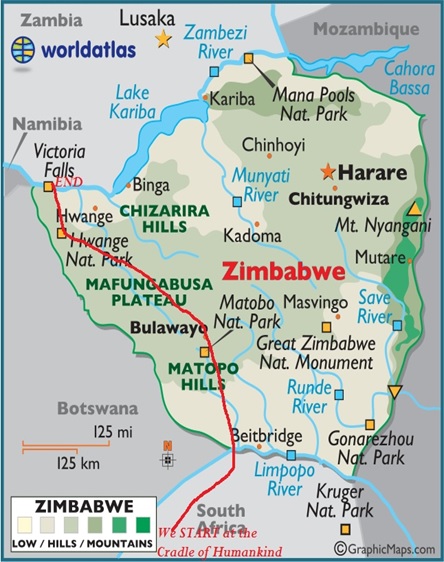 Anthropology Courses: These courses will cover a range of topics including the prehistory of South Africa beginning with the evolution of early hominids to the development of state societies, archaeological methods, and the impact of colonialism on modern populations. Specific attention however will be paid to the rock art of the San Bushmen in Zimbabwe. Students will have the opportunity to observe and record rock art sites in the areas of Limpopo and Matopos, Zimbabwe. Arrangements are also currently underway for student excavations at the site of Khami ruins.
Sociology Courses: These courses will review current literature on cross-cultural social & community sustainability organization. Students will observe social and economic activities in Zimbabwe communities. Students will document and examine work motivation, family, education, and other factors that energize, direct, and sustain community structures. Within these factors, they will focus on the relationship between the individual and the community, cultural commitment, social control, and citizenship behavior.
COURSES OFFERED:
ANTH 3300: Anthropology

of Africa

ANTH 5343: Topics in Anthropology of Africa

SOC 4307: Individual Studies: Social Organization in Cross-cultural Settings

SOC 5332: Research Organization: Social Orgainzation in Cross-cultural Settings
ESTIMATED PROGRAM FEE:
PROGRAM FEE INCLUDES:
Airfare to/from Zimbabwe (may originate at DFW)

Most meals

Lodging

Transportation
PROGRAM FEE DOES NOT INCLUDE:
TTU tuition and fees (6 hrs)

Personal spending money

Insurance ($1.48/day)

Education Abroad fee ($200)
PROGRAM OPEN TO:
PROGRAM DATES:
FOR MORE INFORMATION CONTACT:
To continue working on your application click the button below and log in with your eRaider credentials.